In addition to the usual fun associated with to-be-read-and-watched lists, some of the newest suggestions we collected for you present a serious look at disturbing issues that deserve attention.
Experts, activists, youth and staff from the global network of Friedrich-Ebert-Stiftung submitted their recommendations for films and books that take you on a critical journey through right-wing extremism and violence that is rising in the societal mainstream of Europe and the United States.
Must We Defend Nazis?, book by Richard Delgado and Jean Stefancic
Golden Dawn Girls, documentary film by Håvard Bustnes
In the Fade, film by Fatih Akin
With its provocative title, Must We defend Nazis? Hate Speech, Pornography, and the New First Amendment by Richard Delagdo and Jean Stefancic offers a critical approach to the debate on free speech and on considering the white supremacy narrative. The suggested films, In the Fade by Fatih Akin (2017) and Golden Dawn Girls (2017) by Håvard Bustnes, offer insight on the Golden Dawn neo-Nazi party in Greece. I find all three intriguing for anyone wanting to understand the right-wing extremism phenomenon.
---
Sabrina, book by Nick Drnaso
For the first time ever, a graphic novel (Drawn & Quarterly, 2018) has been nominated for the high-profile Man Booker Prize. Sabrina is the victim of a crime, and after a video of the horrific incident does the rounds on the internet, her boyfriend, Teddy, is sucked into a maelstrom of conspiracy theories on social media and talk radio that call the motive, statements and even the identities of those affected into question. In the Trump era, no one can overlook the real-world backdrop against which this American plot is set, namely Alex Jones' webcast "Infowars," in which he claims that recent school shootings were all staged and that survivors were "crisis actors" paid by members of the Democratic Party.
---
Agora, film by Alejandro Amenábar
The movie is shocking in a great sense, and it suits the times that we are going through these days, with extremism and violence in the world. It shows how extremists use religion to spread hatred and hurt anyone not following the principles they have adopted, even friends or family members. It illustrates a level of intolerance and violence that people who may not have thought about before are now reaching—it is a good mind-pricking movie and asks for critical thinking and brainstorming.
---
The Rage: The Vicious Circle of Islamist and Far-Right Extremism, book by Julia Ebner
The book (IB Taurus, 2017) explains the link and interaction between far-right groups in the West and Islamic radical groups and the factors behind mutual extremism, with historical significance. This is very important to understanding the relationship between extremist groups and violence, especially in the rise of the extreme right in Western political fields and violence against immigrants.
---
Violence: Six Sideways Reflections, book by Slavoj Zizek
Zizek's work (Profile Books Ltd. 2008) helps us to grapple with the phenomena of violence beyond what is immediately perceptible to the eye, and he challenges us to think about violence as not just something sporadic.
---
Maus—A Survivor's Tale, book by Art Spiegelman
Maus (Pantheon Books, 1991) might not be a surprising recommendation because it clearly is a canonical work and one of the strongest reflections on the Shoa ever published. Still, if you haven't read it yet, make sure you do. This graphic novel has a lot to say, not only about World War II and the destruction of European Jewry but also, more universally, about the consequences of hatred, antisemitism, racism and violence—from the perspective of a survivor and his son.
---
Brown Morning, book by Franck Pavloff
I first read this novel (The O'Brien Press, 1998) as a pupil in French class, and it showed me then the concrete dangers of the slow rise of a fascist regime. By describing seemingly futile examples of the influences of such a government on everyday life that lead to terrible consequences, it is really relatable and accessible to everybody. It is definitely a must read in French or in a translated version!
---
Leroy, film by Armin Völckers
Adam's Apples, film by Anders Thomas Jensen
Propaganda 4.0, book by Johannes Hillje
I just couldn't decide on a single pick. Leroy (2007) and Adam's Apples (2005) deal with the topic of right-wing extremism and discrimination with a summer undertone. Propaganda 4.0 (in German, J.H.W. Dietz Verlag, 2017) has been for some time now the most captivating non-fiction that dissects the language and the discourse on the right but also on this [left] side of the spectrum. An absolute must read!
---
Reclaiming Action—Progressive Strategies in Times of Right-Wing Populism, report by Christian Krell, Henri Möllers and Niklas Ferch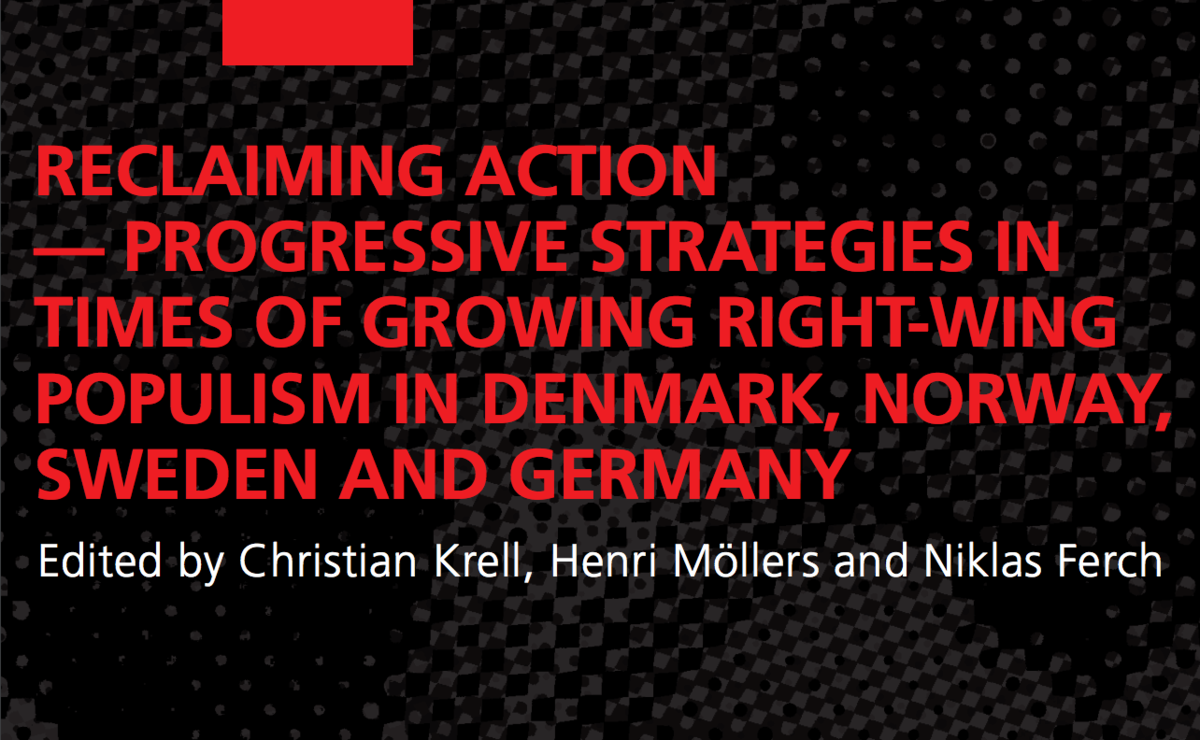 Many progressive parties across the globe try to discover what works to strengthen progressive ideas in times of growing right-wing-populism. We have done empirical research on that by comparing experiences in Denmark, Sweden, Norway and Germany (see FES, 2018). And we offer concrete advice on dos and don'ts. Spoiler: Copying the populists' policies does not work! More on: http://www.fesnord.org/topics/reclaiming-action/.
###
Liked what you read? Follow FES Connect on Twitter for daily updates and subscribe to receive our monthly news brief sharing news and updates from the global network of Friedrich-Ebert-Stiftung, its partners and friends.